What works best for you?
In some ways The Amazing Flower is like coffee.
There are lots of different natural "ingredients" in cannabis & hemp flowers, just like there are lots of different possible ingredients in your favorite cup of coffee or tea.
The challenge is to find out which combination of these ingredients is best for YOU. So we collect and share knowledge that we hope will help, and try to put it on simple pages for everyone's quick reference.
The more you know about your options, the more control you'll have over your experience - and ultimately, your quality of life.
Life Happens Everywhere
We have Quick Reference Pages whenever you've got a question, wherever you are*. We try to publish simple summaries of the latest research, bioavailability, cannabinoids, terpenes, flavonoids, and several other pages designed to help patients and consumers take control of their cannabinoid experience. We cover the active ingredients that are commonly found in Cannabis & Hemp flower and concentrates. And please let us know if we need to add or update something. New discoveries happen all the time!
*Free printed pocket guides for places with no internet: just take our 3-minute survey.
Our Research
It's About More Than Profits
Giving back 25% is an integral part of our mission, and it's actually part of our mission statement. We believe real-world evidence is the best way to reduce stigma, so getting the right cannabinoid medicine in the hands of patients is critical. We want to support charities that help patients obtain and afford cannabinoid medicine on a daily basis. If you know of one like this, please tell us via our charities page.
Our Charities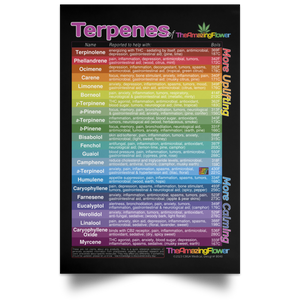 Cannabis Terpenes Poster (color-coded)
Sale price Price $30.00 Regular price Unit price / per
US taxes included EVERYTHING Ships FREE in the Lower 48 US states!